Neuroform EZ® Stent System
Neuroform EZ® Stent System is manufactured by Boston Scientific for Stryker Neurovascular.
Flexible Design – Enhanced Delivery
Introducing the industry leading self-expandable and conformable stent design with a simplified delivery system. By reducing stent delivery to three steps – Access, Advance, Deploy – enhanced control meets efficiency.
90644755.AB
Features & Benefits
Flexible Stent Design and Conformable Design
Segmental™ Expansion designed to promote stent anchoring and stent stability
Hybrid Cell Architecture designed to provide flexibility and conformability in tortuous anatomy
Three-Connector Design engineered for consistent conformability, flexibility and accessibility
Cell openings designed to provide aneurysm access across size offerings
Nitinol self-expanding stent helps provide balance of radial force and gentle deployment
Simplified Delivery System, Accurate Placement
Three Steps to Deploy
ACCESS
ADVANCE
DEPLOY
1. PRE-SHAPED DISTAL TIP
Similar tip softness as Transend® 300 Floppy Guidewire
2. RADIOPAQUE POSITIONING BUMPERS
Assists with system visualization during placement
3. WHITE FLUORO SAVER MARKER
Designed to reduce fluoroscopy time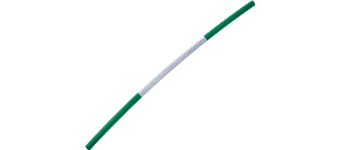 4. INTRODUCER SHEATH
Purple tip is designed for visibility when transferring stent and reloading stent system if desired
31,000 Cases and Counting
Neuroform Microdelivery Stent System Timeline
1 Cumulative worldwide cases from 2002 to end of that year.
* Humanitarian Device. The Neuroform® Microdelivery Stent System is authorized by Federal Law for use with embolic coils for the treatment of wide-neck, intracranial, saccular aneurysms arising from a parent vessel with a diameter of ? 2mm and ? 4.5mm that are not amenable to treatment with surgical clipping. Wide-neck aneurysms are defined as having a neck ? 4mm or a dome-to-neck ratio < 2. The effectiveness of this device for this use has not been demonstrated. IRB Approval Required. Please contact your local sales representative for details about ordering this product.